In 2004, the MCE began its commissioning project, New Music for New York. Through this project, the MCE has commissioned dozens of works for choir from aspiring and established composers, focusing on local New York City composers. The MCE won ASCAP and Chorus America's Adventurous Programming Award in 2016, recognizing a sustained commitment to performances of choral music written in the last 25 years.
This extraordinary commitment to fostering new choral music has given the MCE the opportunity to work with some of the leading living New York composers, including George Andoniadis, George Steel, Patrick Castillo, Charles Griffen, and Nico Muhly.
For information about this year's competition, click here.
The Many Hills Songbook
In celebration of the Manhattan Choral Ensemble's 20th Anniversary Season, we are proud to present The Many Hills Songbook. This collection of compositions from contemporary composers connected to New York City is intended to provide the choral community at large with a shared repertoire of songs that reflect our daily life. We are extraordinarily grateful for the composers who have contributed to this project, and allowed us to share their work with you through a Creative Commons license for free non-commercial use. We hope you will download the songbook, share it with your singing partners, and find joy in the music echoing over the many hills of this world. Learn more »
Past Commissions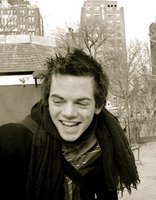 Nico Muhly
March 2006
I Cannot Attain Unto It
The American Symphony Orchestra under Leon Botstein premiered Mr. Muhly's Fits & Bursts at Avery Fisher Hall in February 2003, and the Juilliard Orchestra under Jeffrey Milarsky premiered his Out of the Loop at the Juilliard Theater. Out of the Loop went on to win an ASCAP Morton Gould Young Composer's Award. In April 2004, his So to Speak was premiered by the Juilliard Orchestra under Jeffrey Milarsky in Alice Tully Hall. For more information, visit: http://nicomuhly.com.
I Cannot Attain Unto It is a setting of a section of Psalm 139 arranged such that certain syllables repeat and cycle around each other. The harmonic motion of the piece is through common tones, a method in which a single note is sustained through two related or unrelated keys. The use of the repetition is meant to be at once devotional and hypnotic. Mr. Muhly said he has been drawn to the psalms since he was a young child. "Their obsessive repetition and turns of phrase has always fascinated me. Every time I set one, I learn something new about the strategic use of repetition."
A.J. McCaffrey
March 2006


Meeting the British


A.J.'s music has been performed by the Royal Scottish National Orchestra and the Scottish Chamber Orchestra, as well as by several Boston-area ensembles. He has been featured on Boston Modern Orchestra Project's "The Next Next" new music series, and has recently been named Composer-in-Residence for the Radius Ensemble, a Boston-based chamber group. He currently lives in the Boston area, where he is the Chair of Theory and Composition at the Community Music Center of Boston.
In a reading of his poem, "Meeting the British", Paul Muldoon identifies the speaker as the spirit of the Ottawa, meeting a pair of British officers around the time of the Pontiac Rebellion in 1763. "The eventual betrayal of the native North Americans by the British in this poem struck me as quiet and intimate, almost shockingly so," Mr. McCaffrey said. "In setting this text to music, I wanted listeners to discover this stillness gradually, as if by accident."

Patrick Castillo
March 2006


A Piece of Coffee
Composer Patrick Castillo serves as founding Co-Artistic Director of the Pharos Music Project. In June 2005, his work Lola for Pierrot ensemble was awarded the Brian M. Israel Prize by the Society for New Music (Syracuse, NY). Highlights of the 2005-06 season include premieres of Patrick Castillo's chamber and choral works by Anti-Social Music, the Canticum Novum Singers, Cerddorion, the Pharos Music Project, and the Society for New Music. Patrick Castillo moonlights with various vocal ensembles and daylights as Artistic Administrator for Music@Menlo, a chamber music festival in the San Francisco Bay Area.
Patrick Castillo writes: "A Piece of Coffee" expands. The excerpt in question of Gertrude Stein's Tender Buttons progresses from pithiness-"More of double. A place in no new table."-to Coltranesque virtuosity-"The perfect way is to accustom the thing to have a lining and the shape of a ribbon and to be solid, quite solid in standing and to use heaviness in morning." This setting takes Stein's principle of expansion as its point of departure: stretching single notes and narrow intervals into dense harmonies and amplifying monophonic clarity into violently cluttered textures. (www.patrickcastillo.com)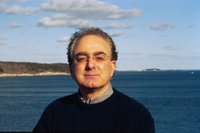 George Andoniadis
Mixed Choir + Soprano
March 2005


God's World
George Andoniadis was born in Montreal, and grew up in the Chicago area where he began playing and composing music. He studied at Northwestern University and the Manhattan School of Music. Mr. Andoniadis has composed numerous theater scores and much vocal music, both solo and choral, and has received world premiere performances from the Gregg Smith Singers, the Bowdoin College Chamber Choir, the University of Southern Maine Chamber Singers, and the Choral Art Society of Portland, Maine. His music has also been featured on concerts of the Ohio University Chamber Singers and the Lancaster Chorale.
Mr. Andoniadis is a member of ASCAP, Chorus America, and the Society of Composers and Lyricists. He has been a grant recipient from Meet the Composer, Inc., and was a winner of the Composition Competition of the Festival of Contemporary Choral Music in America sponsored by Bowdoin College. His work has been included in the Bates College New American Music Festival and has also been featured on Maine Public Radio. His choral setting of Shakespeare's Sonnet 56 received its world premiere by the South Bend Chamber Singers, and Hymn to St. Xenia, based on a Greek text, was commissioned by the Metropolitan Greek Chorale and premiered by that group in New York. Mr. Andoniadis recently composed and performed music for two new theater pieces, Wait for Me at the Bottom of the Pool, at the Here Arts Center, and I Look Divine at Dixon Place, both in New York. His choral work, Psalm 142, was commissioned and premiered by the Choral Art Society of Portland, Maine. He has composed music for a film logo and scored a series of short films called Hyperactive: Radical Sports for CineMuse, Inc. in NYC and has recently completed two scores for the Portland Stage Company productions of Proof and Women and the Sea. He recently composed a new musical called Home, written with librettist and lyricist Sofia L. Geier, and conducted a Concert/Reading of the show directed by Ms. Geier at the Blue Heron Arts Center in NYC. With God's World, Mr. Andoniadis has now completed two commissions for the Manhattan Choral Ensemble, the first having been a work entitled Birds, set to a poem by Hallie Geier and performed in the 2005 season.
"When Tom Cunningham and I first met to discuss this commission, he mentioned that the choir was interested in being more involved in the process. I loved that idea, even thought I didn't really know what it meant! But as we have moved forward, it has developed into a wonderful and very rewarding experience with at least two unique aspects. The first involved the selection of the text. As I had not already selected one, Tom suggested that I come up with a few possibilities and then come to a gathering of interested choir members to discuss them. This meeting occurred back in late November over dinner and was a lot of fun, as everything is with this bunch. I had brought three text choices and passed them out and as we began to look them over and talk about them, it became VERY clear which one hit home with the group. Tom reiterated that it was my choice, and we all went our separate ways. Sometime later, Tom asked which text I had chosen, and I said 'God's World, of course.' How could I not since it had been the poem that had so moved the choir at that dinner. I was delighted since it had, after all, been one of my choices anyway. But the process was something special, and unique.
"The second thing involved the actual music. We had determined at that first meeting that I would bring in a short bit of music fairly early in the process so the choir could sing through it and get an idea of how the piece was developing and offer thoughts and comments. This session happened in February. I had about half the piece composed but I brought in somewhat less and the group read through it and had a lot of interesting ideas and questions. I had never given a piece to a group at this stage of completion (or non-completion) and I had NEVER given music that was in this state in terms of notation. The score had no markings of any kind yet. Absolutely bare. Notes and only notes. It was truly a joy to hear this terrific group go through those notes, led by their marvelous director to find things in that bare music, and especially to wonder out loud as to what might follow. Again, a special and unique evening.
"The result of this interesting and adventurous process is the music I have composed and that the Manhattan Choral Ensemble with the superb soloist Kiera Duffy will sing to this spectacularly expressive poem which reaches to sky and the stars and delves so deeply into the soul."
George Andoniadis, Birds
Mr. Andoniadis has composed numerous theater scores and much vocal music, both solo and choral, and has received world premiere performances from the Gregg Smith Singers, the Bowdoin College Chamber Choir, the University of Southern Maine Chamber Singers, and the Choral Art Society of Portland, Maine. His music has also been featured on concerts of the Ohio University Chamber Singers and the Lancaster Chorale. For more information, visit: http://www.imaginationsound.com/
Birds is a composition born of sadness but living as an expression of joy and hope. The words were written by Andoniadis's 11-year old niece, Hallie Geier, who died last year in a car accident. "She lived an amazingly full life for her short time here with us and this poem is an example of her fertile and powerful imagination," Mr. Andoniadis said. "The words create striking images and then express a yearning that we all have felt as we see the miraculous flight of birds in the sky. As a composer, I simply tried to paint the poem with notes and in so doing to communicate Hallie's spirit and perhaps speak with her soul." Birds is dedicated to Hallie's sister, MJ.
Joelle Wallach
Mixed Choir
March 2005


The Clothes of Heaven


The Clothes of Heaven is based on a short poem by William Butler Yeats. The tapestry of love and longing woven by the singers' lyrical interplay reflects that woven by Yeats in the text.
Joelle Wallach composes music for orchestra, chamber ensembles, choruses and solo voice. Her String Quartet 1995 was the American Composers Alliance nominee for the 1997 Pulitzer Prize in Music. The New York Philharmonic Ensembles premiered her octet, From the Forest of Chimneys, written to celebrate their 10th anniversary; and the New York Choral Society commissioned her secular oratorio, Toward a Time of Renewal, for 200 voices and orchestra to commemorate their 35th Anniversary Season in Carnegie Hall.
A pre-concert lecturer for the New York Philharmonic for several subscription series, Ms. Wallach speaks on a broad range of musical subjects, bringing fresh insights to familiar works and opening doors to modern ones and to those more infrequently heard.
Wallach grew up in Morocco, but makes her home in New York City, where she was born. For more information and to hear samples of more of Wallach's music, visit her website.
Mary Ann Joyce-Walter
Mixed Choir + Piano
March 2005


In Anguish and Hope: A Psalm for Today
Mary Ann Joyce-Walters writes: The first two sections of In Anguish and Hope are based on verses from two terrifying Psalms; the third section is a setting of a passage from Micah. I chose to use these texts after listening to a friend of mine speak about the death of her son.
I became keenly aware of her personal and genuine feelings of rage against God, which were so similar to David's "Why do You hide Your face and forget our persecution and our oppression?" Christ's "My God, My God, why have you forsaken me?" and Elie Wiesel's "Never shall I forget those flames which consumed my faith forever." I realized that a far more difficult question (and perhaps more deeply personal) than that of asking God to forgive us is "Can we forgive God"?
After asking that intimate and bold question, the words of Micah recall that peace, based on justice, will come one day: "you shall be at peace and unafraid.…nations shall not lift up sword against nation….you shall bear fruit in justice and peace."