sat, may 19, 2018 ► 8pm
osny
417 west 57 street nyc

Kelly Moran

Ellis Ludwig-Leone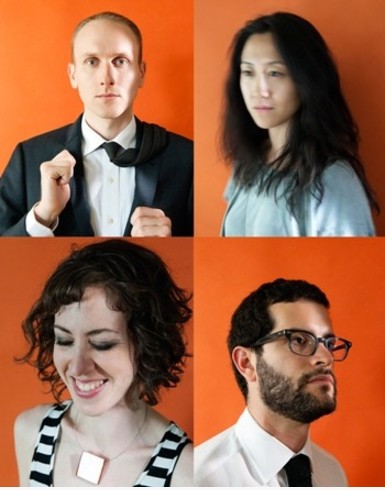 Yarn|Wire
Carl Orff's iconic setting of poetry from the wildly varied medieval collection called Carmina Burana ranges from the impassioned and oft-quoted plea of "O Fortuna" to the irreverent tavern song "In taberna quando sumus." The cantata, chronicling earthly delights and inexorable fate, was juxtaposed with new works by acclaimed composers Ellis Ludwig-Leone and Kelly Moran inspired by Orff's masterwork, and performed by the Manhattan Choral Ensemble and the innovative percussion and piano quartet Yarn|Wire. 
Earlier This Season

Saturday, March 10, 2018, 8:00 p.m.
St. Joseph's Church
371 Sixth Avenue, New York, NY 10014
The Manhattan Choral Ensemble's singular choral music competition, New Music for New York, returned Saturday, March 10, as we premiered three winning compositions in a program including works by Brahms, Josquin, Bruckner, as well as beloved folk songs. Our audience selected "New Day" by Arthur Bracco to win an encore performance and an additional prize.
Our New Music for New York winners for 2017-18 were:
Nu zijt wellekome!
The MCE welcomed audiences on a visit to the low countries of Europe – Belgium, the Netherlands, and Northern France – for a concert of carols and polyphonic Renaissance music celebrating the beauty of the Christmas season.
Friday, December 8, 2017, 8:00 p.m.
Sunday, December 10, 2017, 3:00 p.m.
West End Collegiate Church
245 West 77th St. (at West End Ave.), Manhattan 10024
The performance featured traditional Latin texts by low countries composers: Ave Maria by Josquin des Pres, Hodie Christus Natus Est by Sweelinck, and O Magnum Mysterium by Willaert. In addition, traditional Dutch carols were performed, all in the historic West End Collegiate Church, which traces its origins to New Amsterdam in 1628.  This gem of a building on the Upper West side was constructed in 1893 and is styled after 17th century buildings of Haarlem and Amsterdam.  It is adorned with a carved oak pulpit and Tiffany studio windows.