Noel: Christmas in France
Return to France this December, as the Manhattan Choral Ensemble revives its holiday performances of music from countries deeply involved in New York City history. Our tribute to France will be performed in the historic St. Jean Baptiste Catholic Church, with musical selections including Renaissance gems from Mouton and Caurroy, modern masterpieces by Francis Poulenc, and charming Christmas carols from the countryside. Readings from French authors on the preciousness of the Christmas season will accompany the program in a nod to our popular Readings and Carols series from the past five years.
Friday, December 11, 2015, 8:00 p.m.
Sunday, December 13, 2015, 3:00 p.m.
St. Jean Baptiste Catholic Church
184 East 76th St, New York, NY 10021
New Music for New York Composer Competition Concert
Saturday, February 27, 2016
The Manhattan Choral Ensemble's singular choral music competition, New Music for New York, will return in February to the DiMenna Center for Classical Music. In this interactive concert, the choir will premiere three compositions selected by our artistic panel, and the audience will vote on its favorite to win an encore performance and a cash prize. The evening will be capped off with beloved folk songs, well-known madrigals, and a new work by music director Thomas Cunningham.
V1V@LD1 RECONSTRUCTED: A Gloria for a New World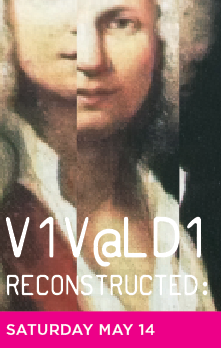 Saturday, May 14, 2016
Bask in the magnificence of Vivaldi's Gloria, alongside a contemporary reinterpretation of the work. Accompanied by a period orchestra, the Manhattan Choral Ensemble will close its season with a work that represents the pinnacle of Vivaldi's sacred choral writing, set against new works from some of New York's most innovative and gifted composers.