Join us for our 17th Season!
A Russian Christmas – Friday December 9 and Sunday December 11
New Music for New York – Saturday March 11
Classics RECONSTRUCTED – Saturday May 20
Call for Submissions – New Music for New York
Calling all NYC-area composers – we want your submissions to the Manhattan Choral Ensemble's signature composition contest. Details »
Join our email list or follow us on Facebook to stay connected and hear more about upcoming events.
Recent Concerts
V1V@LD1 RECONSTRUCTED: A Gloria for a New World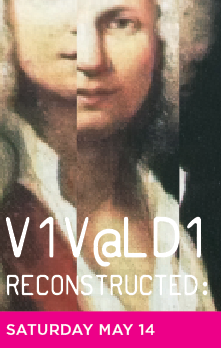 With V1V@LD1 Reconstructed: A Gloria for the New World the Manhattan Choral Ensemble continued its quest to reimagine the great works of the past through the lens of the present.
Saturday, May 14, 2016, 8:00 p.m.
Church of the Blessed Sacrament
152 W. 71st St., New York, NY 10023
Our audience heard an exquisite performance of Vivaldi's classic work by the MCE and an orchestra of leading period-instrument performers, surrounded by new music inspired by electronica, hip-hop, and New York City, composed by the MCE's director Thomas Cunningham. The new movements sat between the movements of Vivaldi's Gloria and served as both reflections to and extensions of Vivaldi's music, incorporating the same choral and orchestral forces as the Gloria with the addition of two electronic percussionists.
New Music for New York Composer Competition Concert
The Manhattan Choral Ensemble's singular choral music competition, New Music for New York, returned Saturday, February 27, 2016 to the DiMenna Center for Classical Music. In this interactive concert, the choir premiered three compositions selected by our artistic panel, and audience members each voted for their favorite. The program included Benjamin Britten's "Flower Songs" as well as beloved folk songs.
Our New Music for New York winners for 2015-16, with each composition a world premiere at this concert, were:
Bill Heigen's "Refuge", a setting of the Sara Teasdale poem, won our Audience Favorite distinction, earning an encore performance and an additional prize.
Noel: Christmas in France
With Noel: Christmas in France, the Manhattan Choral Ensemble revived its holiday performances of music from countries deeply involved in New York City history. Our tribute to France was performed in the historic St. Jean Baptiste Catholic Church, with musical selections including Renaissance gems from Mouton and Caurroy, modern masterpieces by Francis Poulenc, and charming Christmas carols from the countryside. Readings from French authors on the preciousness of the Christmas season accompanied the program in a nod to our popular Readings and Carols series from the past five years.
Friday, December 11, 2015, 8:00 p.m.
Sunday, December 13, 2015, 3:00 p.m.
St. Jean Baptiste Catholic Church
184 East 76th St, New York, NY 10021