sat, may 19, 2018 ► 8pm
osny
417 west 57 street nyc

Kelly Moran

Ellis Ludwig-Leone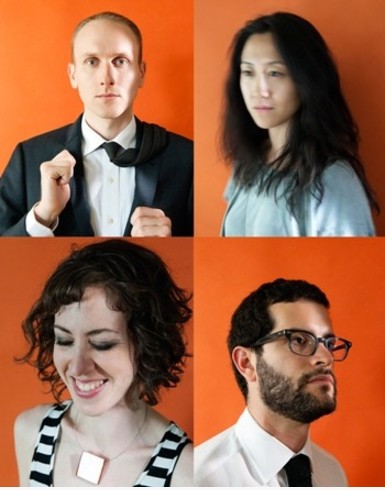 Yarn|Wire
Carl Orff's iconic setting of poetry from the wildly varied medieval collection called Carmina Burana ranges from the impassioned and oft-quoted plea of "O Fortuna" to the irreverent tavern song "In taberna quando sumus." The cantata, chronicling earthly delights and inexorable fate, was juxtaposed with new works by acclaimed composers Ellis Ludwig-Leone and Kelly Moran inspired by Orff's masterwork, and performed by the Manhattan Choral Ensemble and the innovative percussion and piano quartet Yarn|Wire. 
Join our email list or follow us on Facebook to stay connected and hear more about upcoming events.
About the Manhattan Choral Ensemble
The Manhattan Choral Ensemble is a 40-voice, independent choir dedicated to passionate performance of choral masterworks and contemporary compositions. The MCE performs in historic New York spaces and creates programming in partnership with musicians of diverse backgrounds and genres. Winner of the 2016 ASCAP Award for Adventurous Programming, the MCE fosters the musical life of the city through its innovative commissioning project, New Music for New York.
For more information about the choir, explore our website, connect with us on Facebook.com/ManhattanChoralEnsemble or Instagram @ManhattanChoral, and join our mailing list to receive updates on our concerts, benefits, and other events.